---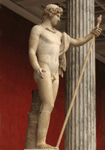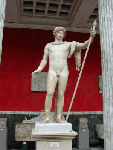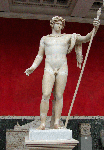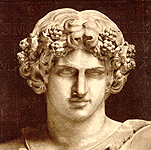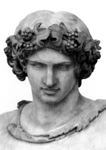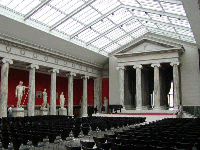 ---
Copenhagen, Ny Carlsberg Glyptothek, Inv. N° 1960, exhibited in the "Festsal." Found ca. 1700 in the Garden of the now-demolished Villa Casali in Rome. Called the "Antinous Casali," after its origin. «Der Kopf wird von vielen für den schönsten gehalten» (Friedrich von Ramdohr, 1787)
---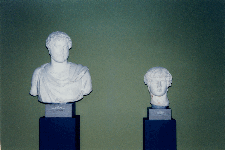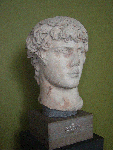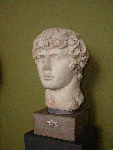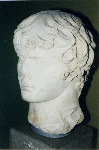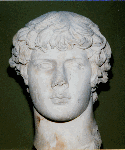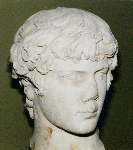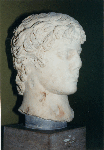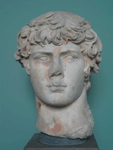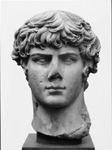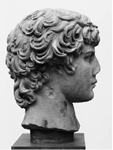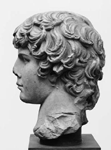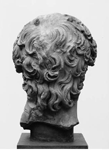 ---
Copenhagen, Ny Carlsberg Glyptothek, Inv. N° 779, exhibited in the Roman Portrait Room. Found 1889 in Rome. Exact origin unknown. Exhibited in the Roman Portrait Room. Found toward the end of the 19th Century in the vicinity of Tivoli. Acquired in 1889 by the Glyptothek. «Fierce, decisive and dominant virility» (Royston Lambert, 1984)

---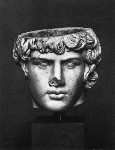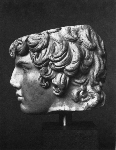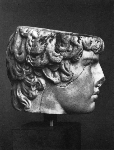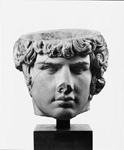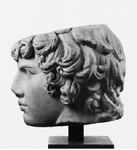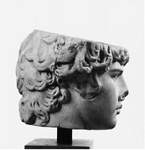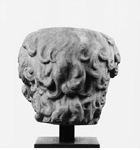 ---
Copenhagen, Ny Carlsberg Glyptothek, Inv. N° 1191, no longer exhibited. Exact provenance unknown, probably near Tivoli. Acquired in 1894 for the Ny Carlsberg Glyptothek. «Somewhat florid style and sensual depiction of the subject» (Royston Lambert, 1984)
---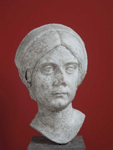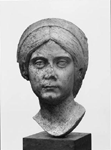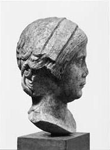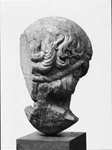 ---
Copenhagen, Ny Carlsberg Glyptotek, Inv. N°. 3286. Portrait of Antinous, recognizable at his hair, recarved as a portrait of a young women at the beginning of the 3rd century
---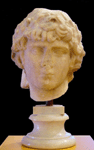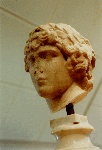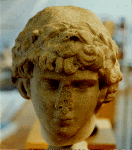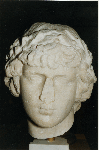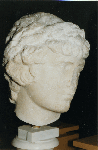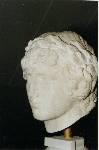 ---
Copenhagen, Nationalmuseum, exhibited. Acquired 1878 in London. «Besonders schlank und zierlich» (Hugo Meyer, 1991)

---
Delphi (Greece)
---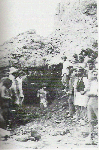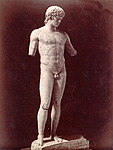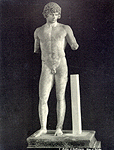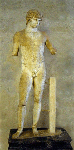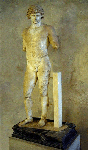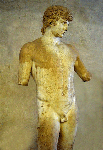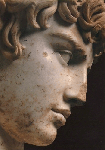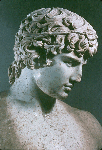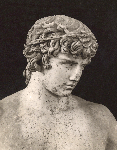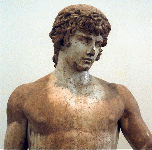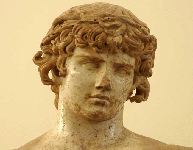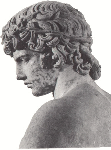 ---
Delphi, Museum, Inv. N° 1718, exhibited in Hall 13. Found in 1894 in Delphi. (First a picture from the day of the discovery) «Il semble, tant la chair est souple, qu'elle vive et palpite, et la poitrine vigoureuse semble gonflée d'un souffle sain et puissant. Les jambes sont fines et d'un galbe charmant» (Théophile Homolle, 1894).
Please see also the replicas of this portrait on our page dedicated to the modern copies
---
Dresden
---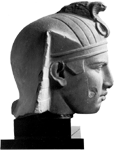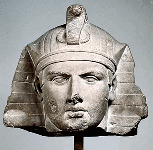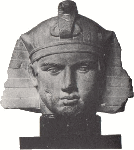 ---
Dresden, Albertinum, Inv. N° AB.423, not exhibited. Exact origin unknown, but most probably from the Serapeum of the Villa Hadriana. Bought in 1728 in Rome from the House of Chigi, when the prince Augusto [1662-1744] sold the whole collection of his father the prince Agostino [1634-1705] to August the Strong [1670-1733], elector of Saxony and king of Poland. Very famous throughout the 18th century – at a time where Egyptian sculpture was still little known –, it was first identified as Isis, then as a Sphinx. Only at the very beginning of the 19th century was it recognized as being a head of Antinous. Displayed in Dresden from January 1730 in the Palais im Großen Garten, from 1747 in one of its pavilions, from 1786 in the Japanisches Palais, then from 1894 in the Albertinum. Since 1915, unfortunately, this head has only been seen during temporary exhibitions (1977, 1999, 2002, and 2003 through 2006).. «Die fast ans Weibliche gränzenden Formen konnten wohl dazu führen, Antinous zu verkennen» (Konrad Levezow, 1808)
---
Duisburg (Germany)
---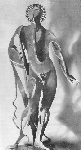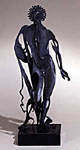 ---
Duisburg, Wilhelm-Lehmbruck Museum. Exhibited. Iron statue dated 1932, 770 mm high, by the Spanish sculptor Pablo Gargallo (1881-1934), inspired by the Farnese Antinous of Naples. «El Antinoo de Gargallo, expresivo y dinámico en su atadura de hierro es, a pesar de ella, de una suavidad y morbidez como si fuera di alabastro. La vivencia estética del último dios no podía perderse y, en pleno siglo XX, vuelve a presentarse, modernista, en una de las esculturas de hierro mas hermosas de la actualidad.» (Francisco de la Maza, 1966)
---
Eleusis (Greece)
---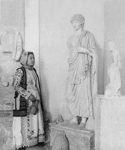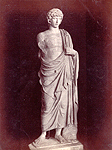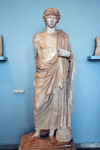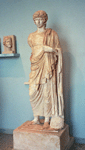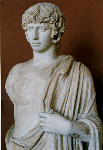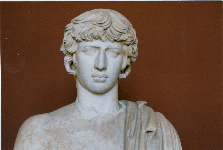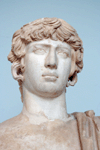 ---
Eleusis, Museum, Inv. N° 5092, exhibited in Hall IV. Found 1860 in Eleusis.«Eine Art würdevoller Gesammeltheit im Auge» (Hugo Meyer, 1991)
---
Florence
---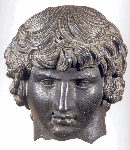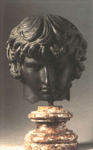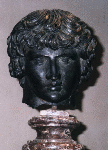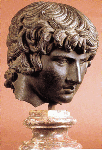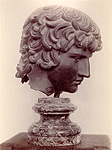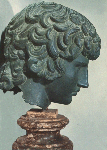 ---
Florence, Museo Archeologico. Inv. N° 1640. Antique bronze head, recorded since 1574, but apparently first published in 1884. «Dieser schöne kleine Kopf zeigt einen ungewöhnlich weichen und kindlichen Ausdruck» (Lorents Dietrichson, 1884)

---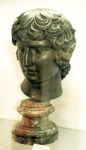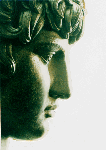 ---
Florence, Museo Nazionale del Bargello. Inv. N° "Bronzi 97", exhibited in the upper storey, with the bronzes collection. Recorded since 1676. Modern copy of the antique bronze head kept in the Museo Archeologico of Florence.

---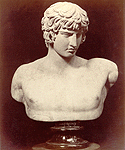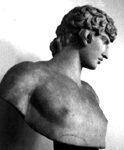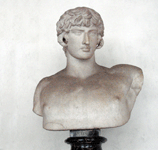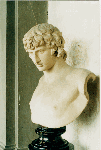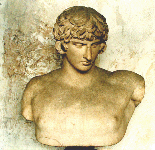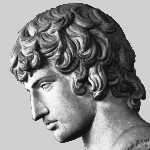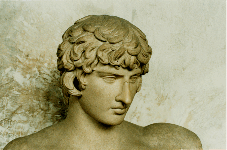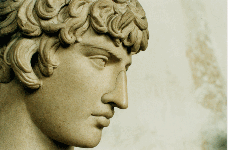 ---
Florence, Galleria degli Uffizi, Inv. N° 327, exhibited in the "Secondo Corridorio." Found in 1671 near Rome. On permanent exhibit in the Uffizi since the years 1670's. «Buste très-beau & excellent : les épaules & les mamelles sont antiques, belles & de grande manière» (Charles-Nicolas Cochin, 1758)
5. picture © by Anna (Flickr.com)
---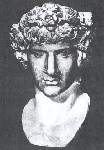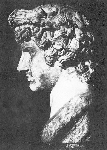 ---
Florence, Uffizi. Inv. N° 364, not exhibited. Origin unknown. Recorded since the end of the 19th century in Florence.
---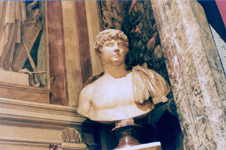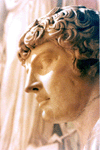 ---
Florence, Palazzo Pitti, Inv. N° 919, exhibited in the Sala di Bona.
---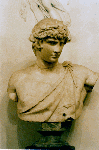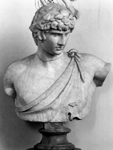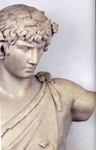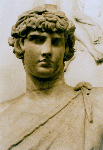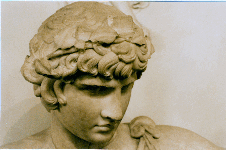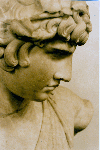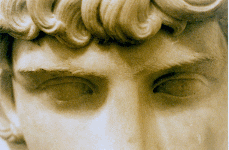 ---
Florence. Palazzo Pitti, No number, Exhibited in the Daphne and Apollo Hall. Origin unknown. Ascertained ca. 1700.

---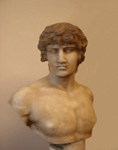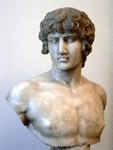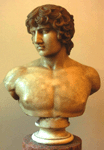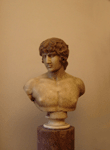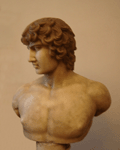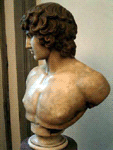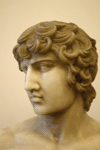 ---
Florence, Palazzo Vecchio, Museo Quartieri Monumentali. First, sixth and seventh picture © 2005 by Mary Harrsch
---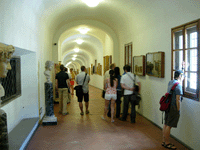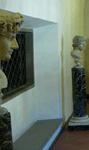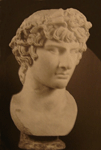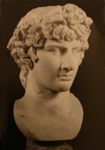 ---
Florence, Galleria degli Uffizi. Inv. 1914, n 99. Roman head of Antinous in Italian marble, exhibited in the Vasari Corridor. High 48 cm , head without the base 30 cm . In the 1950s the head was placed on a not pertaining base of bardiglio marble. It is not known when did it enter to form part of the art collection of the Medici family. In the 18th century it was placed in the Ricetto delle Inscrizioni, a room of the Uffizi. In the 1930s, when this room was dismantled, the head was taken to the museum's depot until 1973, when on the occasion of the re-opening of the Vasari Corridor (Corridoio Vasariano), it was placed in that landmark where it remains nowadays. This corridor is open only a few days a year. Guido Achille Mansuelli: "Galleria degli Uffizi, 1961, pag.91, n.99".

---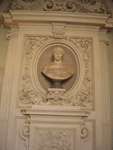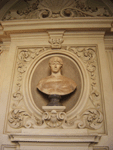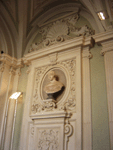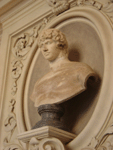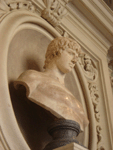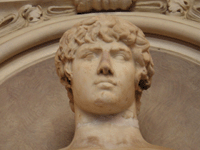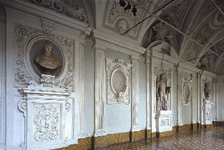 ---
Florence, Palazzo Medici-Riccardi. Roman bust of Antinous belonging to the collection started by Riccardo Romulo Riccardi (1558-1612). In 1689 the collection was moved to the Palazzo Medici-Riccardi. The bust is exhibited in a niche inside of the garden gallery, also known as the "Stucco Gallery" due to the baroque decoration done by Giovan Battista Foggini (1652-1725).

---
Fulda (Germany)
---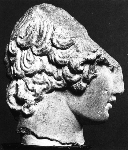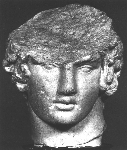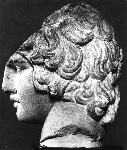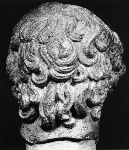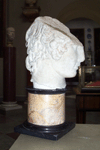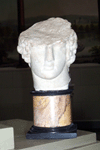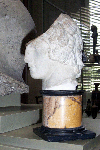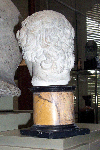 ---
Castle Fasanerie near Fulda. Small marble head (16,3 cm high) probably from a statuette. This head could possibly have been found during excavations conducted near Rome in the 1920's to straighten the Tiber river, and acquired by the Landgraf Philipp von Hessen; however, this origin is not attested, the head being mentioned for the first time in 1948. We are indebted to the Kurhessischen Hausstifung Schloß Fasanerie who granted us the permission to take these pictures for exclusive use in this page. «Ein zeitlos schönes Aussehen» (Helga von Heintze, 1968
---
Gatchina
---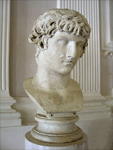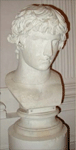 ---
State Museum-Preserve Gatchina, Region of St. Petersburg, Russia. Marble Roman bust of Antinous as Dionysus, exhibited in the White Hall of the Gatchina Palace. It is not known for sure whether it was the first owner of the property, Count Orlov (1734-1783) who brought the bust to the palace, but it was already adorning its White Hall before Tsar Paul I (1754-1801) adquired the estate. It is listed for the first time in the inventory done in 1796
---
Hannover (Germany)
---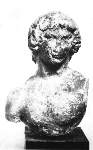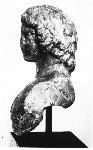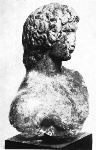 ---
Hannover, Kestner Museum, Inv.-Nr. 1935.200.774. Head found in Egypt. Acquired by the museum in 1935 from the collection von Bissing. Height 18,4 cm, width 13,9 cm, Alabaster. «Es liegt noch etwas von der Seelenstimmung darauf» (Hans Jucker, 1961)
---
Hever Castle (Great Britain)
---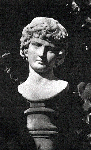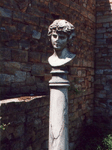 ---
Hever Castle (formerely). Probably bought in Italy around 1900 by Mr W.W. Astor, and brought to Hever Castle at the beginning of the 20th century. Present location unknown. «The head seems to have been worked over but is quite a good example» (Donald Strong, 1965)
---
Izmir (Turkey)
---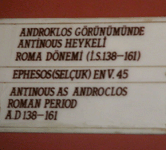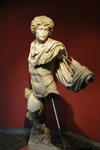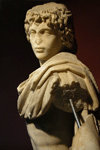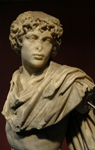 ---
Izmir, Archaeological Museum. Statue discovered end of 1927 in Ephesos by the Austrian team who was excavating the site since 1895. Technical considerations date the statue ca. 150 AC. It is supposed to represent Androklos, a mythological hunter ; this differs from the views expressed by the Keepers of the museum. "Die Anlage des Kopfes und seine Umrahmung durch die üppig flutenden Lockenbüschel lassen keinen Zweifel darüber, dass der Bildhauer die Züge des Antinoos zum Vorbild genommen hat." (Walter Hahland, 1954)
---
Kansas City (USA)
---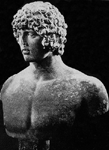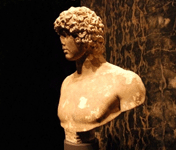 ---
Kansas City, Missouri, Nelson Gallery and Atkins Museum. Identified by C.C. Vermeule, 1960 but contested by many others. Scarcely recognisable as Antinous in either hair-style or expression.
---
Knole (Great Britain)
---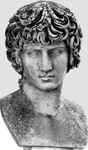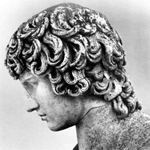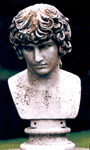 ---
Knole, private collection, not exhibited. The head was found in 1769 in the Pantanello of the Villa Hadriana by Gavin Hamilton [1723-1798] and bought by Thomas Jenkins [1722-1798], who had it restored – nose and bust – possibly by Bartolomeo Cavaceppi [1716-1799]. Acquired in 1770 in Rome by John Frederick Sackville [1745-1799], 3rd Duke of Dorset, and long kept inside of the castle of Knole, the bust was unfortunately set outdoor during the first half of the 20th century, where it incurred some corrosion due to the weather. Now back in the private apartments of the castle, the bust is no longer accessible and is one of the least known portrait of Antinous. «Eine der besten Kopien der reiferen Bildnissfassung» (Hansgeorg Oehler, 1980)

---
London
---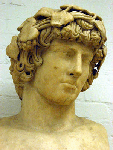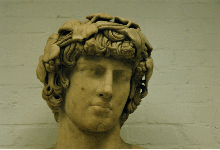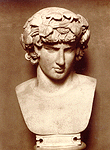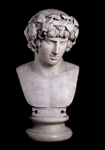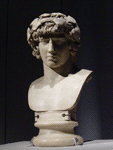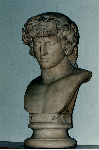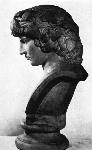 ---
London, British Museum, Inv. N° 1899, exhibited in Hall 85. Head (on modern bust). Found in 1770 near the Villa Pamphili in Rome. Called the "Townley Antinous," after its owner from 1773 to 1805. «One of the finest remaining representations of Antinous» (Samuel Birch, 1861)
---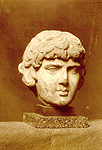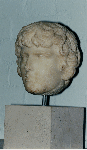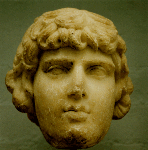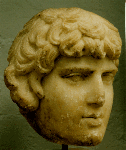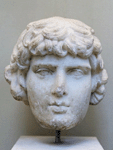 ---
London, British Museum, Inv. N° 1900, exhibited in Hall 85. Origin unknown. Bequeathed to the British Museum in 1856. «La más juvenil, la más sencilla escultura de Antinoo» (Fransisco de la Maza, 1966)
---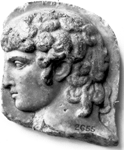 ---
London, British Museum, Inv. N° 2655 (Catalogue Smith). Small fragment (height : 133 mm) of a modern bas-relief. Presented to the British Museum towards 1800, exhibited until the middle of the 19th century, in reserve since then.
---
Madrid
---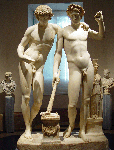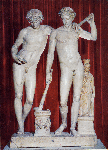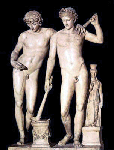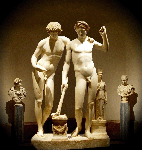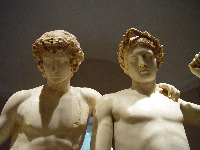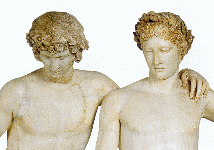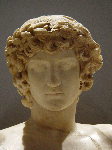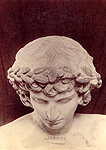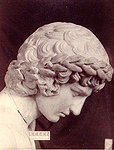 ---
Madrid, Museo del Prado, Inv. N° 28-E. So-called Ildefonso-Group. The original group, variously dated from the 1st c. BC to 1st c. AD, was modified during Hadrian's reign when the left boy's head was replaced by a portrait of Antinous. Probably found in 1621/23, first ascertained in 1623, the group changed hands several times before reaching Spain in 1724 and the Prado in 1839. «Diese beyden Epheben waren mir immer höchst angenehm» (Johann Wolfgang von Goethe, 1812)


Please have a look at several modern copies of this group, particularly famous in Germany
---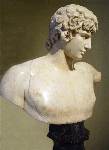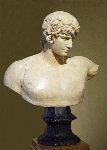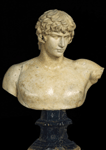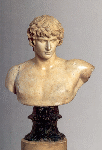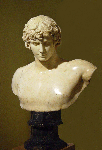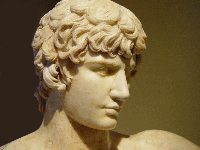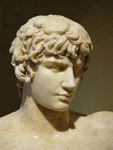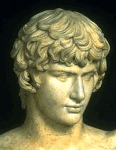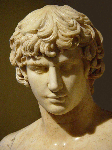 ---
Madrid, Museo del Prado, Inv. N° 60-E. Bust, exhibited in Hall LXXIV. Ascertained in Rome in 1540.

---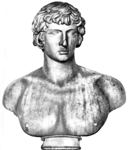 ---
Madrid, Museo Nacional del Prado. Bust of Antinous, by an unknown italian artist of the 16th. Century. It belonged to Don Diego Hurtado de Mendoza (1504-1575) who was the spanish ambassador in Rome and Venice from 1539 to 1553, where he gathered a collection of portraits of roman personages.

---
Malibu (USA)
---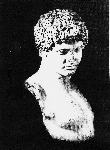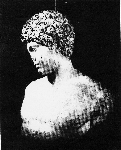 ---
Malibu, J. Paul Getty Museum, Inv. N° 72AA92. Probably from the Pembroke Collection, Wilton House, England.

---
Merida (Spain)
---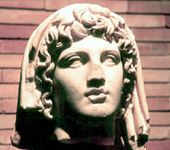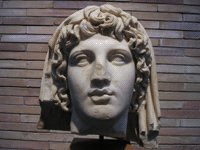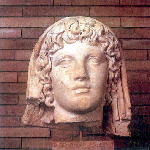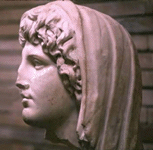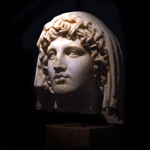 ---
Merida, Museo Archeologico of Merida, exhibited. Head found in Merida in 1912, in front of the so-called temple of Diana. Much contested, and sometimes presented as a feminine head. «Una persona en plena juventud, cuyos rasgos fisionómicos ya formados, constituyen el ideal incomparable de una belleza llena de majestuosa dulzura» (Maximilio Macías Liáñez, 1913)
---
Montauban (France)
---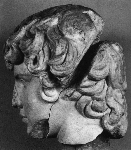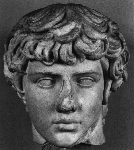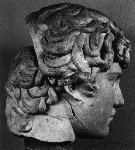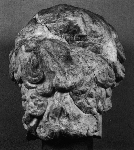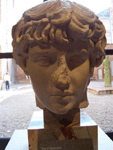 ---
Montauban, Musee Ingres
---
Munich
---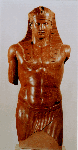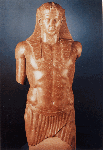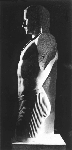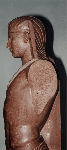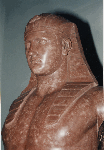 ---
Munich, Egyptian Collection, Inv. N° WAF 24, exhibited in the East Wing. Antinous as a pharaoh. Apparently already known in the 16th Century in Rome. «Der prachtvoll kräftige Körperbau ; die mächtige Brust und die athletisch ausgebildete Muskulatur» (Paul Wolters, 1910)

---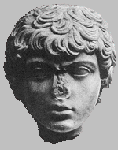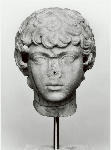 ---
Munich, Glyptothek, Inv. N° GL.286, not on exhibit. Acquired early in the 19th Century. Origin unknown. «Ein gering gearbeiteter Knabenkopf» (Adolf Furtwängler, 1900)

---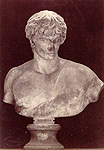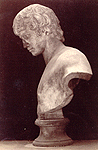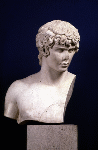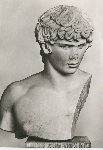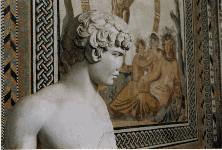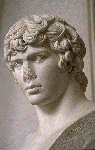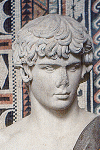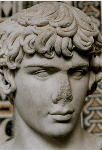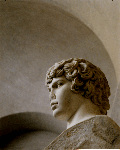 ---
Munich, Glyptothek, Inv. N° GL. 400, exhibited in the Römer Halle. Large fragment of a bust, presumably found in or around Rome in the mid-16th century. Acquired at that time by the count Mario Bevilacqua [1536-1593]. He and his heirs kept it exposed in their palace of Verona since then. Bought in 1811 by Ludwig, then Crown Prince of the Kingdom of Bavaria, for the future Glyptothek of Munich. Exhibited there from its inauguration in 1830 until 1939, and from 1972 up to now. All the former restorations (left shoulder, nose) were removed in the early 1960's but can stil! l be seen on earlier photographs (the first two pictures on the top row are dated ca. 1900). «Diese schöne Büste ist ein treues Bildniss des Antinous mit dem einfach über die Stirn geworfene ungekräuselten Haar, wie er es gewöhnlich getragen zu haben scheint» (Ludwig Schorn, 1830)
---